Join us 
October 23, 2013
for an In-Store Event!
 What is it? What's it worth?  &
How do you sell it? 
Antique dealer and author, Leslie Goodwin, shares tips 
from her best-selling book:
ANTIQUE or Shabby Chic?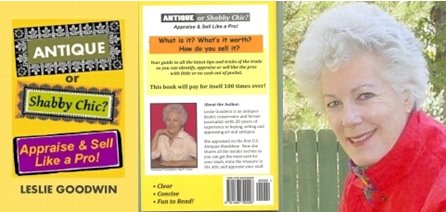 Leslie Goodwin has been a professional antiques dealer for 22 years. She was an appraiser on the first Antiques Road Show that filmed in Denver, chosen for her knowledge of Spanish Colonial objects.
She has sold thousands of items on and offline including one that sold for $22,854. on eBay and another that sold privately for $54,000.
Now she shares her knowledge in a book designed to help people to identify, appraise or sell their goods. The book is in the top 20% of titles selling on Kindle and in the top ten of three non- fiction categories for several years running. Books will be available for signing!
Appraise & Sell Like a Pro! She will have copies of the paper back to sign and show how to download the digital version. Come learn about the undiscovered treasures in your attic!
Bring questions!
See you there!
Sincerely,

Clarissa and Her Fabulous Staff