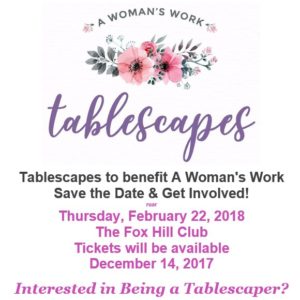 Tablescapes to benefit A Woman's Work
Save the Date & Get Involved!
Thursday, February 22, 2018
The Fox Hill Club
Tickets will be available
December 14, 2017
Interested in Being a Tablescaper?
A Woman's Work is hosting a charming event, Tablescapes, to take place on February 22, 2018. The Open House event will take place at The Fox Hill Club between 4 – 7n PM. The Tablescapes event will feature more than 40 tables decorated by businesses, organizations, and individuals, all of which will be raffled off to lucky winners.
We are looking for your creativity and willingness to donate a Tablescape to benefit AWW. Each Tablescape must include a minimum of 4 and up to 8 place settings. For example, a traditional 4-place setting displayed could include dishes, flatware, glasses or cups, napkins, place mats, and tablecloth. Another option may be 4-place settings of cocktail glasses and appetizer plates. Be creative! You may include any decorations and/or benefits to your Tablescape. Anything included on the table
will be included in the drawing.
Registration Deadline to be a Tablescaper is DECMBER 15th.
Use the registration form below and submit to friends@awomanswork.org